The Beatles have never failed to put me in a cheerful mood ever since I was thirteen. Eight years after that fateful day when I first listened to the Love album, they still have that same effect on me, especially when I find myself watching their first film A Hard Day's Night. It's actually been about two years since I last saw this movie (my younger self is distraught over this), but the timing couldn't feel more right to watch it again: I had just finished one of my most writing-intensive semesters a couple of days ago, and was in urgent need of a pick-me-up. It wasn't long before that distinctive opening chord rang throughout the house, and images of smiling Beatles flickered past the screen as they ran around the streets of London with a horde of exuberant fans trailing close behind.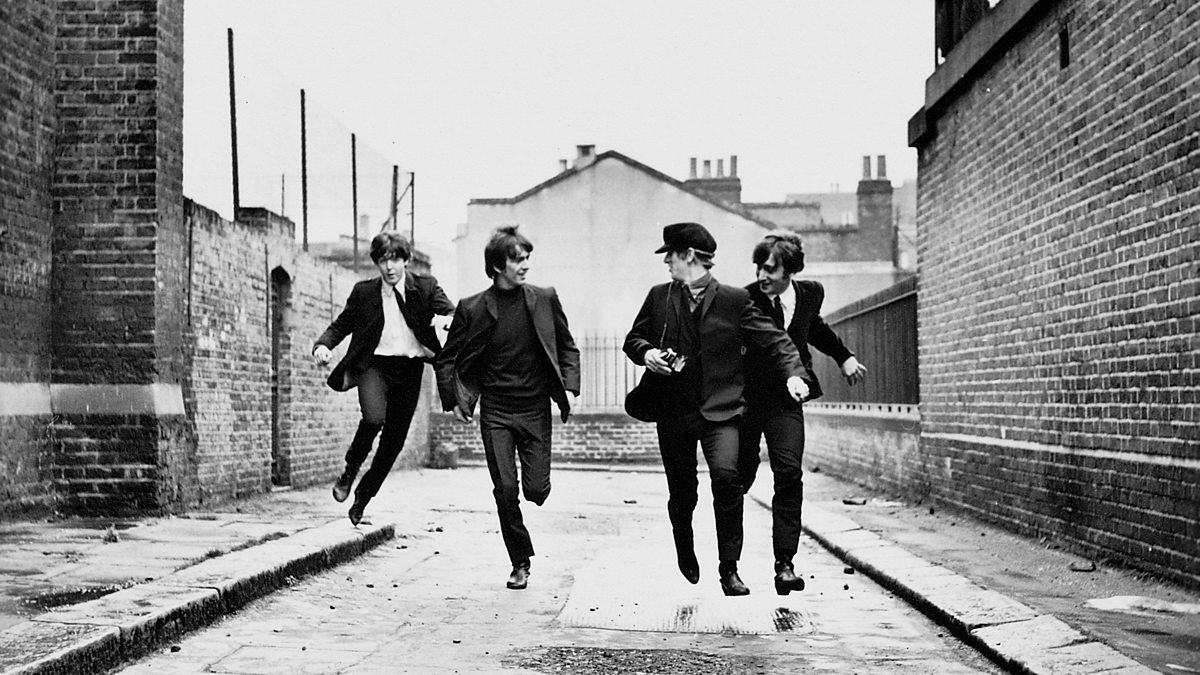 Released in 1964 at the height of Beatlemania, the movie focuses on "a day in the life" of The Beatles (how many times has that been used), giving us a sort of biographical yet narrative approach on their performances, behind-the-scenes shenanigans (mainly caused by Wilfrid Brambell, who plays Paul's mischievous grandfather), examples of Beatle humor, what it was like for them to travel among venues, and how they faced the public in between it all. To this day, I still have no idea what is going on in this film at times, but that's what makes it so charming and—in the words of George Harrison—distinguished-like.
Right of the bat, one of my favorite things about this film is that it's full of inevitable Scouse banter and memorable quips. There's just so much to list, like, so much. You might as well just end up watching the whole film because the amount of favorite lines and scenes I have floating around in my head right now is ridiculous.
In a personal sense, one thing struck my mind as odd as I was watching this movie: I realized that I'd finally caught up to the ages of George and Paul in this film, and I may have had an existential crisis about it. To think that I spent my entire adolescence surrounded by their music and history only to see that it's continuing on to a different stage of my life is just really weird to me. But a good weird. Not to mention the progression I had throughout the years from high school music student to college film student provides for an interesting combination of perspectives. Nevertheless, the adoring fangirl in me hasn't changed a bit.
Still, I can't help but look at the cinematography a little differently now, and how this movie found its place in film history besides music history. During the 1960s, the film industry was in the midst of transitioning to a New Hollywood, a time where teen audiences were focalized and restrictions started crumbling. With this new lens in mind, it was like seeing the film for the first time again. I noticed various uses of angles, close-ups, creative composition (see: George teaching Shake how to shave with a safety razor by using his mirrored reflection), and humorous takes on continuity (see: John disappearing from the bathtub when you know he was right there as Norm walks in, what the HECK). Even the editing is done in a way where it goes along with the music, adhering to a cinematic interpretation of their corresponding album.
And I'll be damned if the scene involving a swarm of cops chasing The Beatles up and down the streets wasn't evocative of certain silent comedies…
It's incredibly difficult not to smile at this film. The Beatles look like they were having the time of their lives, and it really emanates through the screen. Case in point: the whole scene of them goofing around on the field to the tune of "Can't Buy Me Love" is one of carefree splendor. The electric sensation of the crowd at the final performance of the film could be felt through time and space, and I still get the chills when I hear the final harmonic notes of She loves you, yeah! yeah! yeah! yeahhh! ringing out as The Beatles take their signature bows. Now, if my aforementioned articulations still don't paint a clear picture of how much this film makes me happy, perhaps John can illustrate:
This is my contribution to The Classic Movie Ice Cream Social Blogathon hosted by Movies Silently. To further satisfy your sweet tooth, click here to view all posts.