These past few months have been long and tiresome, and it feels like it's been forever since I sat down to watch a Keaton film. However, I did have a screening to look forward to over spring break, and it turned out to be a much-needed relief from all the stress I've been juggling around lately.
Two weeks ago, my best pal came to visit for a few days, and we headed down to the Old Town Music Hall on Saturday afternoon. After purchasing our tickets, we noticed that there were a lot more people in the audience compared to our last visit, but found plenty of seating nonetheless. The pre-screening activities followed the same routine, except that the sing-along portion consisted almost entirely of Irish tunes, as St. Patrick's Day had just passed. Next, a screening of Laurel and Hardy's Hog Wild (1930) was shown, which I hadn't seen before. No matter though, because I'm always up for seeing whatever shenanigans those two manage to get themselves into.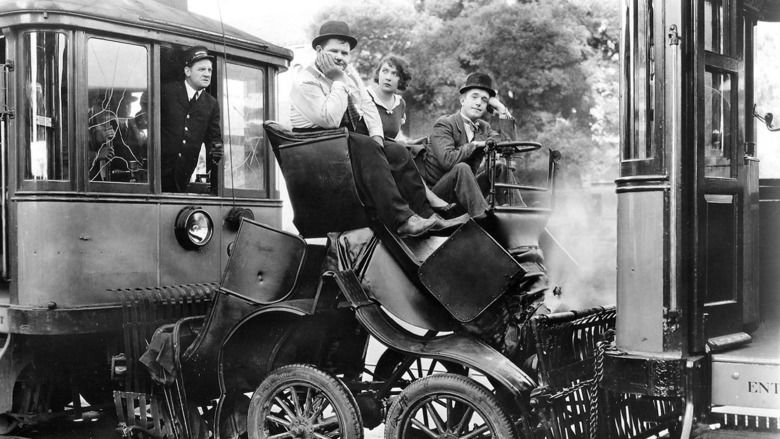 By the time we reached intermission, my eyes already felt weary and strained (an ironic curse for someone who loves attending screenings), but that was quickly disregarded once the lights dimmed again and the opening titles for The Cameraman (1928) appeared. I was immediately brought back to the first time I saw this film, which, coincidentally, had been two years ago that very week.
In this film, Buster Keaton plays a shy tintype photographer who finds himself instantly smitten with Sally (Marceline Day), a secretary for MGM Newsreels. Hoping to get a job working alongside Sally, he trades in his camera for an outdated motion-picture camera (even by 1920s standards), and faces constant obstacles as he tries to impress the bobbed-hair beauty.
One of the many aspects I love about The Cameraman is that I can never get tired of watching it. I've seen this film plenty of times within the last two years, and every scene feels just as fresh as the first viewing. The narrative is fun and perfectly-paced, Buster is every ounce of adorable, Sally is sweet and likable, and Josephine the monkey is a scream.
There are tons of scenes I could write about here, but only two in particular stood out to me during the screening. First, I don't think I've ever noticed just how much Buster was shivering after getting drenched from the pouring rain, and how he seems to cease when Sally gives him a surprise goodnight kiss on the cheek. I guess there are just some details that go unnoticed when watching a movie on a smaller screen.
In an earlier scene, Sally encourages Buster to go out and try filming again, and you can see his spirits begin to lift up. The two eventually make plans for a possible date, but once Buster writes down his phone number for Sally, he's so flustered that he accidentally hands her the pencil and pockets the little slip of paper. Sally notices this, and amends the situation. It's a scene I find endearingly funny, but a silence seemed to fall over the audience, making me wonder if anyone else had noticed it.
Instead of going home straightaway after the screening, my friend and I decided to change things up a bit. The beach is located just a few blocks down from the theater, so we spent the remainder of our evening munching on In-N-Out burgers for dinner, watching planes take off directly overhead from LAX, and enjoying a multicolored sunset as our toes dug further into the sand.